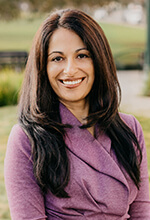 CHARISSA FRANK
CEO/President

Charissa, as CEO/President of FMG, has recently assumed full responsibility for FMG, a woman-minority-owned small business. She has more than 25 years of experience in transportation and project delivery. Under Charissa's leadership, the firm has grown from a niche architecture firm to a multidisciplinary consultancy in architecture and program management. She's passionate about creating a level playing field for small businesses by promoting policies that elevate their role in project delivery through collaboration and creativity. She is committed to fulfilling client needs and developing partnerships of trust. She embodies the firm's diversity of backgrounds and perspectives and believes this to be a vital part of what differentiates FMG and its commitment to equity. She remains vigilant about retaining the firm's core values of heart-centered leadership, innovation, and inclusion, while also evolving to the ever-changing business climate to continue to build a bright transportation future in California.
Linda De Bolt, PE, LEED AP
Principal
As Principal, Linda uses her savvy engineering skills and knowledge acquired over 30 years to provide management and oversight to FMG. She is an excellent team builder and communicator. She is known throughout the transportation industry for successfully delivering projects and programs to public agencies and private development. She brings the client perspective to projects since her experience includes working directly for city and counties, while providing staff augmentation to public transit agencies.
Susan Walker, AIA, DBIA
Associate Principal

As part of FMG's leadership team, Susan brings her experience managing complex projects and her commitment to client success to every project. Her practice is rooted in deep respect for people – those with whom she works to build functional, human-centric, and inspirational, places and those who will ultimately inhabit the spaces being built. With over three decades of experience, as a creative problem solver she has dedicated her career to the collaborative process of building high-quality, sustainable environments that serve our communities.
Adrienne Taylor
Principal 
Adrienne's extensive background includes over three decades of expertise in the rail transit industry where she excels in taking ownership of a program from inception to completion. As Associate Principal, she is currently serves as part of the program management team. She also leads the efforts to develop policies and procedures for FMG's corporate services.
Joe Curtin, AIA, LEED AP
Senior Associate

Joe has over 30 years of architecture experience and has proven success as a project leader. For the past few years at FMG, he has focused on complex station modernization projects for BART. He brings a regional planning perspective on projects to clients, incorporating a wholistic approach in project delivery. He is thoughtful in his approach to design resulting in buildable solutions on projects.